Portfolio and Budget Management have become more of an art than a science. Most IT organizations are trying to prioritize last years' carryover projects along with this year's priorities while trying to stay a step ahead of all the necessary software and hardware upgrades. Somewhere in the mix is ensuring that software licenses are procured and managed so they are not flagged in annual license compliance audits that most major software players, like Microsoft, Oracle, IBM, etc. perform.
This permeates down the entire value chain, from CXOs to line management. Behaviors are influenced by budgets and resources, leading IT departments becoming more financials and time driven than technology driven.
Meanwhile business users are screaming for more. More tools, more applications, more solutions, more functionality, more reports.
How do you balance this supply vs. demand? If IT were a business function and not a cost center, and if one were to manage IT like a business, would you have an IT "budget" or would you be making IT "investments"?
This article explores that thought further and proposes Capability Planning as a way to supersede the Portfolio and Budget Management process to help organizations move up the curve from IT "spend" to IT "investments" with a measurable Return on Investment (ROI).
Capability Planning covers IT activities from initiation to budget approval, however, this article does not focus on Capability Delivery.
The traditional annual planning approach
The Traditional Annual Planning Approach comprises of three phases.
Demand Management
Portfolio Management
Budget Management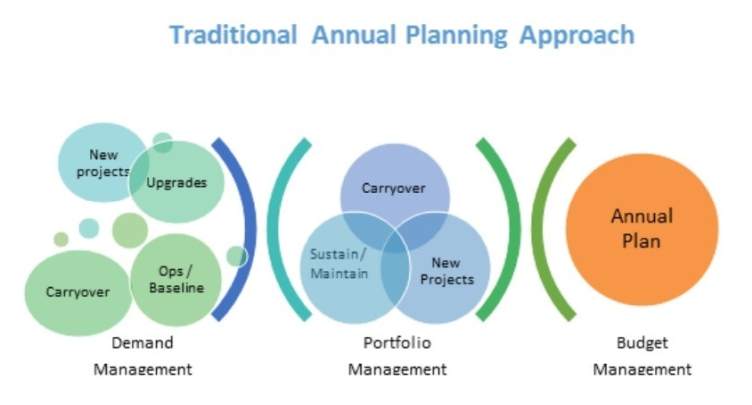 Demand Management
Before a project is approved and implementation is underway, the CIO and CTO of an organization start planning their annual process to determine fiscal budgets. A request goes out to managers asking them to submit year to date costs for the current year project costs and a forecast for projects being planned for the next fiscal year. This information is used to understand what dollars were allocated for the current year that will be required to be carried forward to next year. This is known as "Demand Management".
This phase essentially manages project ideation, where projects are not yet approved. Managers perform an assessment of the functionality required at a high level. At this stage, requirements are not completely defined, and scope is directional. Managers are also required to submit estimates and benefits cases, explaining how much the project could cost and why it should be approved. Tentative resource skills and potential staffing needs are identified, along with software and hardware related expenditures.
Demand is generally received and tracked in multiple categories. One example is to categorize projects as: Carry over projects – projects that are already approved and budgeted for in the current fiscal year, which could have expenditure in the next fiscal year. Examples are multi-year projects.
Sustain / Maintain – projects that are required to sustain the IT environment. Examples are software and hardware upgrades, patches, IT operations.
New projects – new projects being initiated to develop a solution that does not currently exist in the environment. Examples are new software implementations.
One of the common short-comings of this phase is that the demand and capacity are not tracked in a consolidated fashion. Many managers do not consider dependencies on other areas or resource contention issues; therefore, their plans are based on unachievable timelines. Another common pitfall is that capacity planning is only done at the IT-level, without accounting for the availability of business SMEs or change management.
Portfolio Management
The main objective of the Portfolio Management phase is to rationalize the demand collected through the Demand Management process. Portfolio Management is typically used to:
Reduce project redundancy and optimize resources and assets across projects
Assess projects within the overall IT portfolio to identify potential conflicts and to determine business case
Prioritize the portfolio based on pre-determined quantitative metrics (planned ROI) as well as qualitative analysis (risk and compliance)
Facilitate the budgeting phase
Too often, decisions on where the money is spent is made based on the budget available for IT, and Portfolio Management becomes a math exercise. Once carry over projects and sustain/maintain buckets are covered, executives decide which other needs can be met by the remaining dollars.
Budget Management
This is the final phase of the traditional annual planning approach.
This phase facilitates the preparation and allocation of funds to various projects and portfolios, assists in forecasting spend over the fiscal year, and generates management reporting. This phase also provides the basis for tracking spend and maintaining financial controls.
For large enterprises, the process of creating the annual budget can stretch out over several quarters, leading to projects not being funded until the second quarter of the fiscal year. Even organizations with mature processes struggle with finding the balance between funding strategic projects versus keeping the lights on.
Do you see what's missing in the overall process?
The word, Enterprise. At the end of the day, all IT applications exist for one reason; to enable an enterprise to profit from its endeavors. Yet, in the process described above, overall enterprise objectives are not front and center in the overall process.
Capability planning
When an organization puts Enterprise Objectives at the center of their IT investments, the organization starts managing capability, not projects or budgets. Capability planning is key to ensuring an organization's IT alignment to business objectives.
Capability Planning vs. Traditional Annual Planning: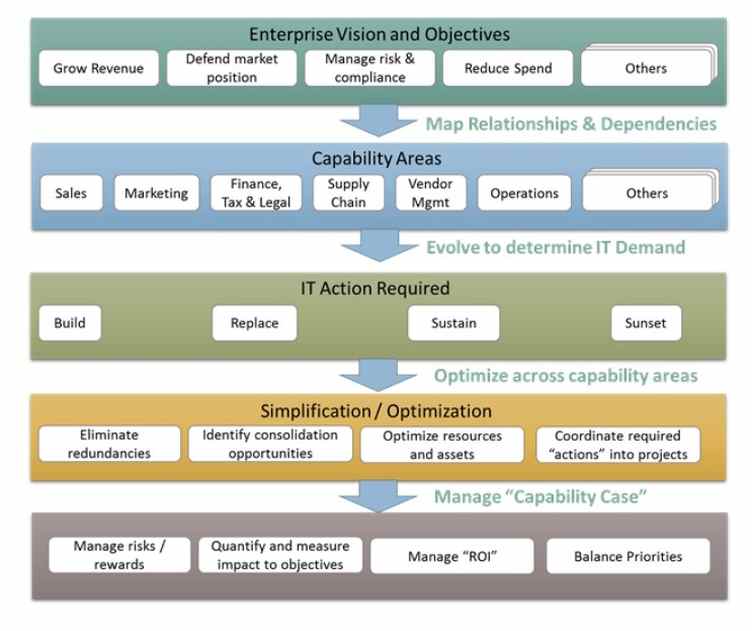 So how is the Capability-driven approach different from the Traditional Annual Planning?
Capability Planning is:
A top-down approach.

It sets the single criteria for every step in the process. It can be anything; a project, an initiative, an idea, etc. Traditional Annual Planning is bottom-up. It depends on line level managers providing input into areas that require attention.

Strategic.

Demand Management in the Traditional Annual Planning approach is driven purely by efficiency and operational concerns. For example, let's say your enterprise is launching a new line of business:

In the Capability Planning approach, all capability areas impacted by the new product launch are notified. Capability managers map the enterprise objectives to technology enablers; which applications need to be built or enhanced, how business will be sustained and what is no longer required. Coordinated input from several IT departments will be required in this approach. In. this case, all the effort expended is with the overall objective of enabling the new product launch.

In the Traditional Annual Planning approach, your line level managers receive information from business SMEs that a new product is being launched. Each IT manager will then be responsible for determining how this impacts their project or application. Infrastructure, Support, Ops, Development, Testing, Security teams will all be individually required to submit "demand." Their forecast for next year will include, among other things, enabling the new product. Then the Portfolio Management process begins. This is often completed by Finance teams rather than Technology teams, leading to redundancies and gaps. In this case, the effort is operational in nature.

Risk Aware.

Capability Planning considers risk management. For example, an entity is prone to natural disasters. As part of an enterprise strategy, Disaster Recovery for that territory becomes a high priority need. Disaster Recovery plans for IT assets serving those territories are now driven by Enterprise Objectives, with an understanding of the risk tolerance. This sounds like common sense, but, is rarely applied. In contrast, in the Traditional Annual Planning approach, a Disaster Recovery Manager needs to present a forecast plan based on whatever information is available to them, rather than driven by the awareness that a certain territory is prone to natural disasters. It's quite possible that decisions are being made based on what the manager feels is in their control.

Optimized.

When all IT assets are being viewed as part of an enabling mechanism for an enterprise objective, redundancies are significantly reduced. Particularly when Capability Planning has achieved a certain maturity, the relationships between IT assets and capability areas are clearly understood, impacts are identified, and the risk of unplanned behaviors decreases significantly. In our earlier example of a new product launch, Capability planning will ensure coordinated effort between IT infrastructure, Operations and Applications teams. In the more traditional approach, each of these areas may be budgeting for additional hardware, but that redundancy may not be uncovered, or a project may be approved, and everyone buys additional hardware for the same purpose.

Not necessarily annual.

Capability planning is not limited to annual planning. Certain core enterprise objectives can have multiyear roadmaps, while new strategic initiatives can be dynamically supported.

Impacts the top line or the bottom line.

As mentioned before, all of IT serves a single purpose, and that is to enable an organization to profit. When enterprise objectives are at the core of the decision-making process, it creates a more collaborative and cohesive approach within IT.
Conclusion
IT will still need to go through some version of the other of the three phases, demand, portfolio and budget management, but Capability Planning impacts the metrics used to make decisions and puts focus on meeting enterprise objectives, versus merely managing an annual budget.