In our last article, we covered the latest Generative AI features in ServiceNow's Vancouver release. In this blog, let's dive deeper and understand how to boost productivity with Generative AI on the Now platform.
The Now platform comprises generative AI, machine learning frameworks, natural language understanding, search, automation, analytics, and process mining. These components work together to elevate employee capabilities and enhance customer experiences.
Accelerate Productivity with Generative AI
By harnessing AI capabilities within the Now platform, such as providing relevant information, making predictions, offering recommendations, and automating tasks, both employees and customers can center their attention on essential human abilities like creative thinking, engaging in meaningful customer interactions, and tackling unpredictable tasks.
Additionally, with native AI technologies, ServiceNow delivers intelligent experiences, automation, and optimization directly within the platform.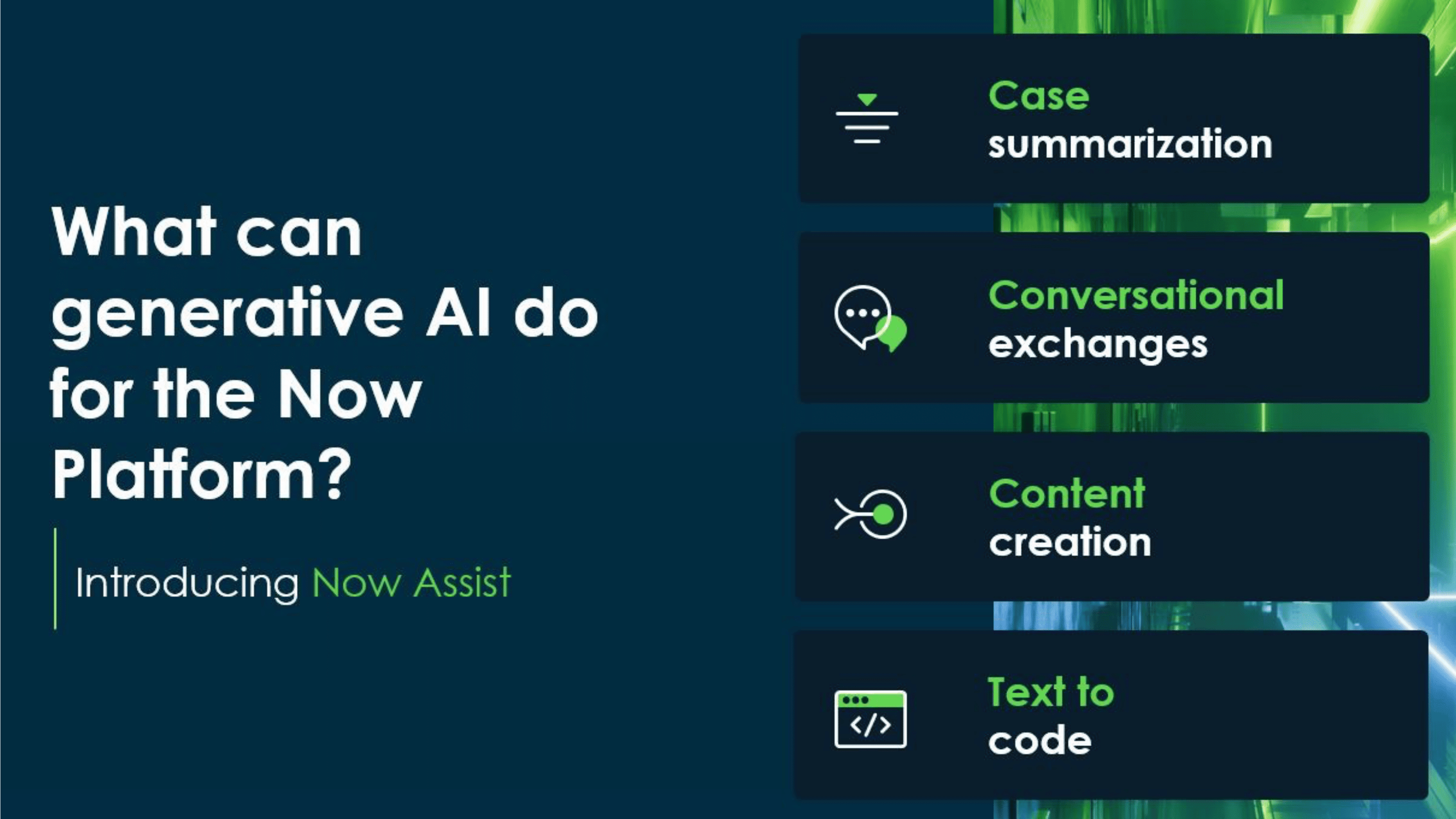 Elevate Experiences by Harnessing AI's Potential on the Now Platform to:
1. Deliver better self-service

2. Discover hidden patterns

3. Recommend actions and deliver answers

4. Detect major incidents

5. Optimize knowledge bases

6. Empower users with search

7. Route and prioritize work

8. Quickly identify opportunities to automate

9. Supercharge productivity
Delivering Generative AI Capabilities to your organization
The Now platform brings the power of AI to your organization—providing all of the capabilities, security, and analytics you need. It empowers service owners with easy AI integration without the need for data science expertise. Their out-of-the-box solutions classify data, discover connections, and identify opportunities swiftly.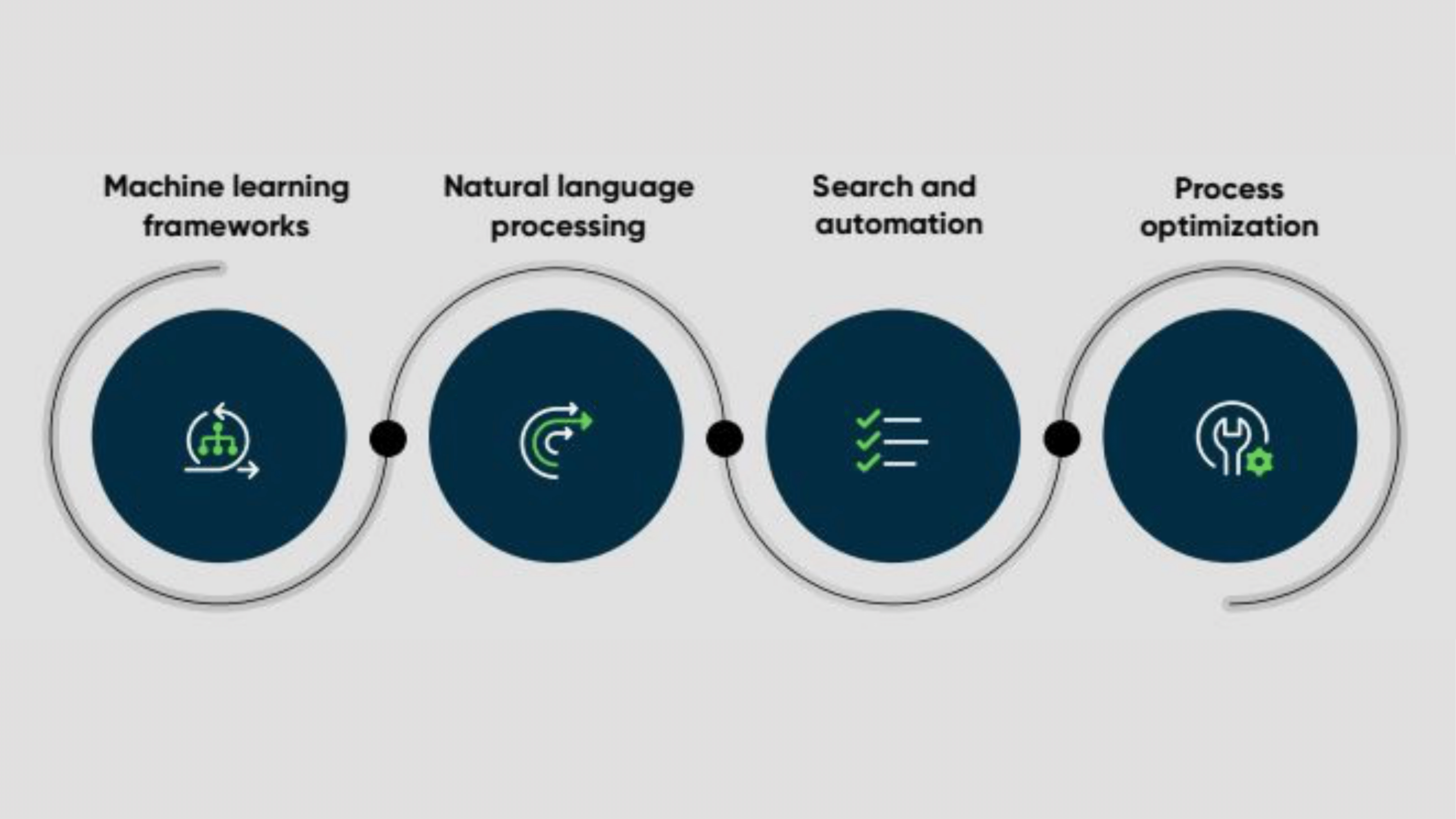 ServiceNow Generative AI lets you explore new opportunities to enhance productivity across your organization. The AI capabilities elevate every solution, product, and workflow so you can focus on the work that's most important. Feel confident that you are in control of your enterprise data.
The Generative AI solutions are trained with your data, providing personalized recommendations and predictions, all within the secure ServiceNow cloud.
Smart Decisions + AI = Drive Real-time Insights
Make smarter business decisions by connecting AI to analytics with real-time insights. Deliver the visibility you need to ensure prediction accuracy and show the improvements being driven across your organization by AI. Visualizing the patterns and trends across each service enables your teams to make better, faster decisions.
ServiceNow is making AI available across the organization. By continuously embedding enterprise AI capabilities across the Now platform and partnering with industry leaders, you're armed with the tools you need to power end-to-end digital transformation. With native AI technologies, we deliver intelligent experiences, automation, and optimization – directly within the Now Platform.
Deliver Intelligent Experiences

through a virtual agent chatbot and intelligent search, helping agents deliver faster answers and outcomes for better, smarter service delivery.

Intelligent Automation Automates

routine tasks to increase productivity and simplify work for everyone – so you can reduce mundane tasks, avoid human errors, and focus employees and customers on more meaningful work.

Unlock Intelligent Optimization

with real-time visibility and intelligent insights to anticipate trends and improve processes – to help you make decisions confidently.
It's an exciting time for the tech industry. INRY is well-positioned with the NOW platform to seamlessly incorporate cutting-edge AI technologies like Generative AI.
So, when we combine the NOW platform automation with new generative AI, we create a massive productivity catalyst that revolutionizes business models and workflows across every industry.
Generative AI is a driving force that increases the Now Platform's ability to:
Transform experiences

– Provide end users with resolutions that are fast, personalized, and trusted.
Accelerates productivity

– Automate mundane work for agents, admins, employees, and developers.

Increases agility

– Adapt quickly with continuous updates, new use cases, and choice of large language models (LLMs).
While this new capability is moving at an astounding pace, INRY, ServiceNow Elite Partner, is approaching with both practicality and care and keeping the trust and experience of our customers at the forefront.