INRY is a ServiceNow® Elite Partner. Over the years, we have been a Gold Service Partner, Gold Sales Partner, Authorized Training Partner, and longtime customer.
As a ServiceNow Elite Partner our goal is to provide value by taking a consultative approach to bring the power of ServiceNow to our clients. Any technology is only as good as its implementation and adoption and we bring in-depth expertise to help you achieve your goals.
Segmentation Framework
We take pride in our unique 360-degree partnership with ServiceNow as it helps us deliver tangible results for our clients.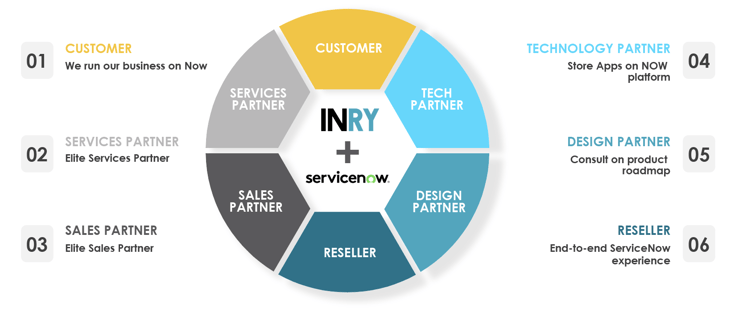 INRY leverages ServiceNow as a single, secure, system to efficiently manage our end-to-end service delivery, enhance our customer experience, and engage our employees. We use ServiceNow internally to leverage automation in our own organization.
As customer of ServiceNow we understand the platform and can leverage that experience with our clients. As Elite Partner we provide highest level of consultancy and best practices to our customer. Being on both ends of the spectrum gives us a unique position to deliver the highest value to our customer.
Unlike general IT service providers, we are a specialized ServiceNow implementation partner who has been associated with ServiceNow since early 2012.
We have developed a unique methodology ideal for ServiceNow implementations, perfected over hundreds of implementations and projects. With ServiceNow, we create EASE — Efficient, Agile, Secure Experiences for our clients.
We have earned the trust of several fortune 500 clients as their trusted partner in their digital transformation journey. We have helped our clients successfully transform IT, HR, Customer Service and Security with ServiceNow.
As a valued partner, we have had the honor of sponsoring several ServiceNow events over the years, including platinum sponsorships at Knowledge, and look forward to contributing to the community for years to come.