At INRY, project teams are engaged from one of the first few steps of the PASS process to ensure that they extended teams that will be impacted by the change are aware and knowledgeable about what the change is.
Furthermore, INRY's PASS methodology establishes a transition where parts of the project are delivered individually. This allows for individuals to use the product for a specific process before the entire project is completed. This transition from point A to point B, encompasses the Bridge's transition model . This specific model believes that a change is a transition over a period, rather than a sudden change. This transition will allow individuals to let go of the past processes and way of work and allow for these new changes to change the way they work and function on a day-to-day basis.
Prosci's, ADKAR model is another organizational change model that INRY recognizes significantly in the PASS process. It is recommendation on how organizations should approach organizational change management (OCM). By incorporating five different states, ADKAR guarantees that if followed, these states will create a smoother change across the organization.
In the figure below, each of the five states are represented across the different states of change. It is depicted in the different states of change as a guiding principal when for when your organization is going through a change, because no change is the same! Also, this model is intended to be adopted by everyone within the organization, because a successful change needs to be embraced on a personal level, rather than a high-level, organizational level.
INRY believes that by fusing some traditional OCM models together and then put into PASS, we are creating more successful projects both in the short term and long term.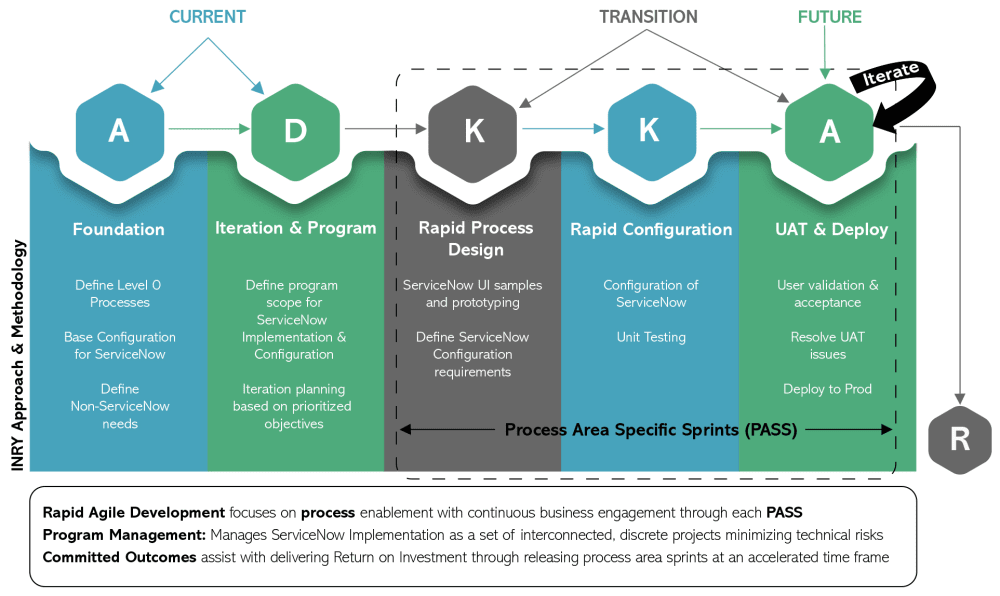 PASS + ADKAR
A = Awareness + Foundation
Within the current state of change, awareness is the first step towards a successful change, according to ADKAR. During this phase, it is crucial to ensure that there is an awareness throughout the organization or the people that will be impacted by the change that there is a need for a change. It is awareness that there is an issue at hand. This phase lines up with the foundation phase in PASS. The foundation phase is designed to sit at the forefront of the project where the conversations are just beginning.
INRY intends to define real business needs and create that awareness of what the foundational level issues are within your organization. INRY wants to understand what is causing attrition within the organization and bring awareness to that. From there, the message should be relayed to extended teams.
D = Desire + Iteration & Program Planning
The desire is the recognition and want for a change to occur. Desire should be spread across each individual who will be impacted by the change. Many of the organizational change models depict that change must stem from a personal level to truly have a successful change across the organization. From PASS, our Iteration and Program Planning phase is where the extended project teams come into the conversation and allow us to ignite that desire.
We perform kickoff meetings with the extended project team, which gets people very excited about what's to come. Without desire, changes will likely not stick, due to people resorting back to their old ways of work because they do not think the change is valuable enough to them.
K = Knowledge + Rapid Process Design
Now, the first phase of the transition state is Knowledge. Having knowledge of the ServiceNow product that is being implemented or having knowledge of any change that is being implemented is imperative to the satisfaction of the employees once the change has been implemented. The way work is carried out for employees' changes, therefore; they should be educated on how their work is changing.
INRY performs workshops with every client to gather requirements for the implementation, but a big part of the workshops is to truly outline what the product is and how it works from many different points of views. In Rapid Process Design, we are defining what their standard processes are and what it will look like for the employees sitting in the room.
A = Ability + UAT and Deploy
To have knowledge about something is one thing, but to be able to use it is another. This is where ability comes into play. The ability to use the product that was implemented and what will be used daily for employees is necessary for success.
INRY uses UAT testing to allow employees to get hands-on with the product and allow for them to practice the different tasks and functions they will be executing as a part of their regular workday. Typically, the INRY team is onsite with the customer for UAT so the INRY team can answer questions and do a demonstration of the product to the employees to see what it looks like. The importance of practicing and doing this stuff firsthand will only allow for an easier change that is adopted by the organization.
R = Reinforcement + INRY's Building Blocks
The future state is something that should be thought about from the beginning of the change, but it is significant to reinforce the change after the product has been implemented. INRY has building blocks in which the PASS methodology and approach is built upon that reinforce the success of the project.
One of the building blocks is carrying out a process similar to rapid agile development. By churning out whole processes one by one instead of the entire finished product all at once, it allows for a smoother transition and for the employees to get familiar with the product at a rate that is more consumable.
The second building block is program management. Being proactive about potential risks and issues throughout the project will result in an accurate timeline, budget, and scope, as well as happier employees. The last building block is committed outcomes. INRY is committed to the success of the client at every step of the project. INRY understands that change can be challenging and a substantial task for an organization to carry out, so we are committed to your success.
Conclusion
Organization change management is not easy. "Over 70% of organizational change initiatives fail but change itself isn't the stumbling block. Change is common and natural, even inevitable. Seasons change, people change, mountain ranges change – yet successful change management remains a lofty, even insurmountable challenge for many organizations." (Dickson, 2019) INRY has recognized that OCM is one of the biggest hurdles that organizations need help getting over.
With our PASS methodology and approach, we made certain that organizational change management was thought about and incorporated into the process. Your success is our success and INRY is committed to delivering projects that will remain prominent in your organization.