Although it's been a few weeks since Knowledge19, the vibe, conversations and experiences are still fresh in our minds. Our clients, partners, team and the ServiceNow ecosystem are still discussing the announcements from the event and what they mean. We are already exploring some new ideas with our clients and prospects and we're excited to get started!
K19 was all about great stories and knowledge-sharing and it's time for you to put all that learning into action. The real fun begins now! As veteran Knowledge attendees, we know that participants find it challenging to remember all they've learned from the conference.
In this article, we share:
Event highlights
Our K19 experience
How you can get started
Here are a few highlights to take note of: ServiceNow is focused on three clouds - employee, IT and customer. Each of these clouds are tied back to the company's new concept - workflows.
Key features in the New York release to look forward to:
New mobile app (allows easy customization)
Emphasis on low or no code environment
Alert intelligence and visual playbooks
Features focused on bringing IT and HR together
New mobile on-boarding app used to improve employee experience
Integrations with Siri and Google Assistant
New changes to the partner program including:
24x5 support
Alterations to partner ranking methodology
More collaborative go-to market approach
ServiceNow CEO, John Donahoe, emphasized that ServiceNow is no longer just a tool, but a comprehensive platform on its own.
We were back as a Platinum sponsor at K19. This helped us share our success stories in a personalized way with the ServiceNow ecosystem including:
NOW for B2B & Services

Curtis Lee (FNTS)
Anu Bulusu (INRY),

Instance Health: Good Practices Equal Happy Users

Joel Bowles (INRY)
Cara Herrick (General Mills)
Jessie Fields (Dollar General)

Business case for leveraging ServiceNow across the enterprise

Belinda Eastlack (Regis Corporation)
Kamille Peterson (TCF Bank)
Lyle Cowart (Shriners Hospitals for Children)
Bipin Paracha (INRY)
We enabled our clients and conference attendees to work together and share insights with each other through our in-booth discussions.
Our visionary co-founder, Bipin Paracha kickstarted the studio interviews at K19!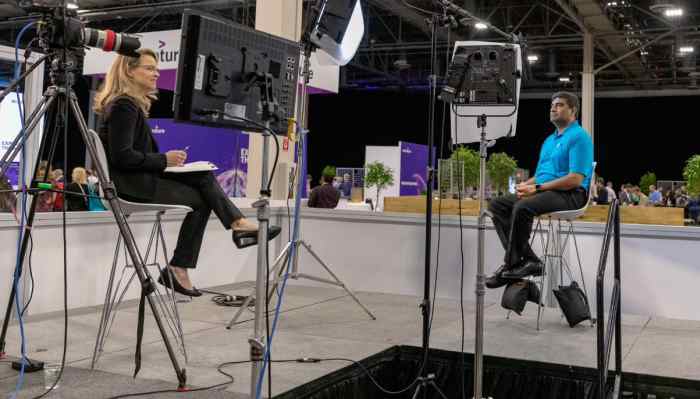 We had some really great conversations with our clients and partners over breakfast.

John Raab, Account Executive, INRY

We appreciate Kenneth Gonzalez (ITSM Research Director of Gartner) for stopping by our booth and interacting with our clients.
#Know19 is all about great conversations & we love it when they happen between industry thought leaders and clients! We appreciate @ken_gonzalez (Research Director for ITSM - @Gartner_inc) for stopping by our booth & meeting our awesome client - Jessie Fields (@DollarGeneral)! pic.twitter.com/YSELELrU9B

— INRY (@INRY_US) May 10, 2019
Outstanding event for customer networking and learn from each other's journey. High energy and companies have a lot of good things to say about platform. Very customer focused engaging client speakers was really refreshing compared to other events.

Brady Storhaug, Account Executive, INRY
"Never been to a technology gathering as positive as K19. Although most customers are challenged with automation…there was very little "bashing" of IT products and vendors…the focus is on finding realistic solutions to modern day problems. Customer 1st approach. K19 felt free of "corporate" interference, most sessions were lead by actual customers and other customers responded well to them."

Carl Luckett, Account Executive, INRY

With over 20,000+ attendees with 600+ sessions, Knowledge19 was a blast.
The event may be over, but the main action starts now. In order to maximize the value from the conference, you need to have a definitive plan and strategy to practically apply what you've learned and transform ideas into reality.
We're offering complimentary consultation sessions for people with fresh ideas surrounding ServiceNow and are looking to explore them further. Feel free to get in touch with one of our ServiceNow consultants.
Stay tuned for a series of webinars with our clients that cover our K19 sessions' topics.