Now at Work 2021 Digital Experience
Date: October 13, 2021
Time: 11:00 AM - 05:00 PM
Venue: Digital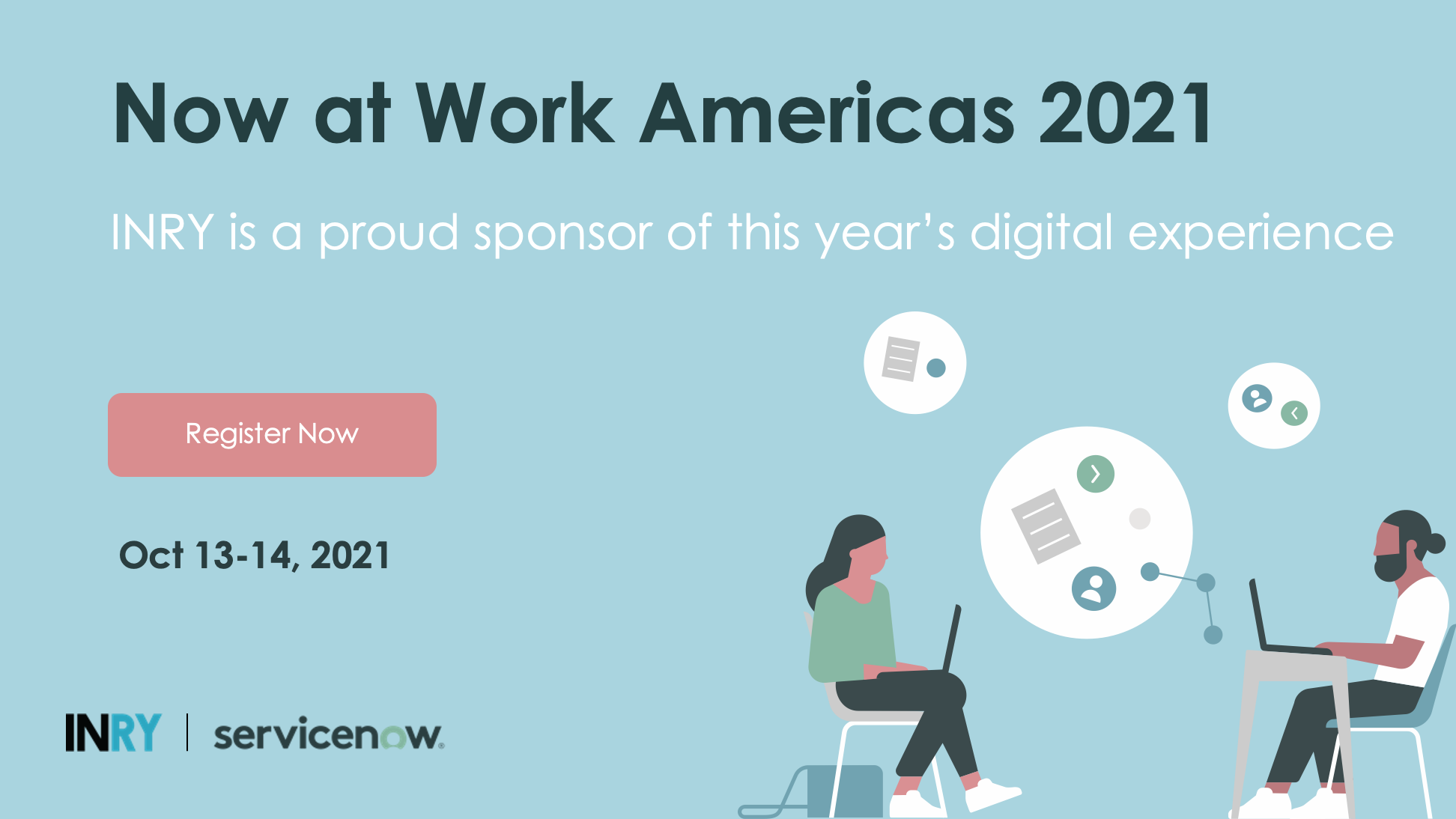 ServiceNow's Now at Work 2021 is a two-day global experience event starting October 13 and 14. ServiceNow will unveil exciting innovations in the Rome release across all four regional markets in the keynote session.
As a proud sponsor of Now at Work, we present some of our recent clients' stories in Healthcare and Financial Services. We invite you to explore SCL Health's Physician Onboarding journey, Western Union's path to consumerizing HR Service Delivery, and other unique ServiceNow Upgrade (simple to complex) stories from the stable.
Joining you at the digital event are a team of INRY's EX and CX solution experts, the Healthcare and FinServ industry, and the Now Platform experts.
There's more. Participate in other valuable sessions by ServiceNow experts, exploring how to design and implement digital workflows that unlock productivity and transform the world of work.
With the ServiceNow Rome around the corner, here's a peek into some of the best features and improvements this release has to offer in our recent blog series.
Showcasing some our transformative work at Now at Work -
Transforming Physician Onboarding Experience at SCL Health:
SCL Health's physician pre-boarding and onboarding process proved to be a barrier to growth and a source of frustration both for support staff and new providers joining the organization. Faced with the demands of increased onboarding activity due to organic growth and increased pandemic-driven hiring, SCL Health decided it was time for transformational change in the process.
Consumerizing HR Service Delivery Western Union:
Like most FinServ companies, a significant part of Western Union's outlays reside in talent investments, ranking second only to agent commissions. They wanted to consumerize HR Service Delivery and provide employees with the level of efficiency, availability, transparency, and a personal touch that consumers experience from businesses.
Minneapolis-St. Paul International Airport & Kwik Trip Upgrades:
INRY is an Elite ServiceNow Partner and can help your organization plan and execute its upgrade to the Rome release. Rome brings a wealth of new departmental features and functionality as well as expanded industry solutions. INRY's CloudCover managed service offering takes the complexity out of platform operations, enhancements, platform upgrades, and roadmap planning. It also helps clients ensure that their ServiceNow investment keeps pace with their ever-evolving needs.
To register for Now at Work 2021, click here.
Add INRY's sessions to your watch list and catch us at the event if you've done so.