Your website can be flawless and your stores may provide the best shopping experience; but after a customer purchases your product and encounters their first frustration with it, the first personal interaction happens with a field service technician. In today's increasingly impatient world, it's imperative for businesses to make the most of this touchpoint to build brand loyalty and improve customer retention.
Field executives are slowly realizing this. According to Gartner, by 2020, 70% of organizations will cite customer satisfaction as a primary benefit derived from implementing field service management, up from approximately 50% today. But to satisfy customers, they must adapt their current service models and keep up with customers' needs.
Sure, digital transformation can help, but what exactly do customers want for a satisfactory service experience? And what is an efficient way of transforming field service management so it stays both impactful and profitable?
>Based on a 2017 survey by the Northridge Group of over 1,000 US customers, two aspects stood apart as areas that mattered most to customers:
Faster service
Personalized support
Let's discover how field service can enable great customer service by addressing these two customer needs.
Transform - 1: Deliver faster service
Connect data in real-time and make it available on-the-go.
Connected, automatic and intelligent case allocation
Integrate your Customer Service Management and Field Service Management systems so your team can create a work order directly from the case. Build criteria around case allocation such as vicinity, skill set, available tools for quick and automatic case allocation. Further, establish preventive maintenance with equipment sensors and industrial IoT allowing automatic service calls when needed.
Taking real time information into account when dispatching technicians can minimize the possibility of technicians arriving late or without the right tools. Further, a mobile-first platform can enable real time changes. With less time wasted spent on the road, technicians spend more time delivering service and building relationships.
Improved inventory, customer and field visibility
Choose a software solution that can connect your technicians' mobile devices to your CRM, ERP, customer histories and inventories in real time. These are knowledge databases already available in the office. Let those enable your field service to address the client efficiently, and deliver service quickly.
Services performed can also be recorded in real time with technicians' mobile devices. They can close out orders through digital signatures and move on to their next job faster. With real time field visibility, you can identify scope for improvement to continually ensure faster service.
Transform - 2: Provide personalized support
Address customers efficiently, and communicate proactively.
Personalized customer experiences
Deliver service when the customer needs it and in their schedule rather than your traditional window of service. Allow customers to pick a time that is convenient for them.
Let technicians access customers' previous service history and typical pain points associated with systems and equipment failures so they can better address the specific case that the customer is facing. Doing this not only enables your technicians to provide a more personalized service experience, but it would also better optimize the technician's schedule.
Constant connection
Keep your customer proactively informed to instill confidence in your service. For instance, if your technician is going to be delayed due to traffic, the customer should receive real time updates. The customer should also be able to reach out to the field service at any time through his preferred channel of communication and reschedule if they need to.
Field service: A blend of customer experience and operational excellence
With a blend of great customer experience and operational excellence, organizations can achieve profitable growth, and build brand loyalty.
New technologies like IoT have put things in perspective.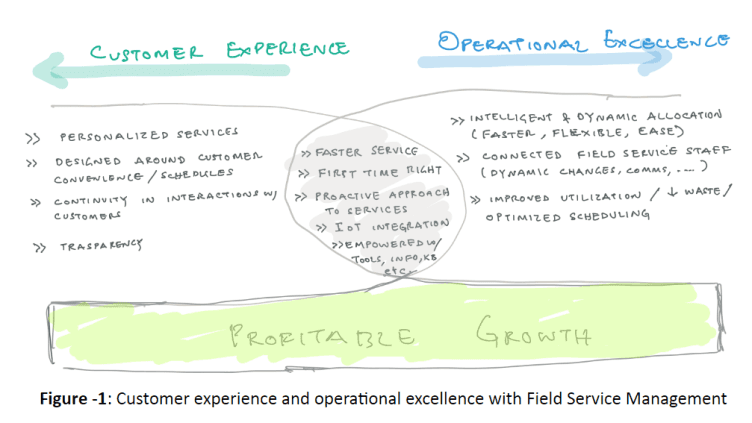 To evaluate this harmony of operational excellence and customer experience, you have to reconsider how you measure the quality of your service. Operational metrics such as time to completion only partially correlates with customer satisfaction. If the technician is able to fix devices fast enough but not well enough, you still won't have satisfied customers.
It's imperative that you measure the quality of your field service based on customer feedback obtained through satisfaction forms and surveys. Consider metrics like timely arrival, product knowledge, quality, courtesy, professionalism and overall satisfaction.
Your first step to field service transformation
Provide faster service, and build your way up to personalization. The first step is to connect your databases and mobilize your field service. Popular enterprise automation software solutions like those offered by ServiceNow enable you to put these integrations in place.
Start with choosing a service transformation partner; someone who takes the time to understand the nuances that are unique to your organization. They need to understand your key benefit drivers and objectives, be receptive to the specialized knowledge your SMEs carry, and balance all that with technical platform skills and experience.
INRY helps organizations transform customer service by working closely with organizations to automate and orchestrate operations. As a ServiceNow Elite partner, we leverage the NOW platform to drive efficiency for your service teams.
Feel free to reach out to us for a quick consultation with one of our experts.