"Digital Transformation" is the buzzword of the year. There is a lot of emphasis on digitally transforming businesses to support customers' thirst for omni-channel-anywhere-anytime access to your products and services.
However, too much reliance on digital customer service can lead to a disconnect with your customers. According to an Accenture strategic research study the estimated cost of customers switching due to poor service in the US could be as much as $1.6 trillion.
Therefore, the key question we are curious about is: "What is the correct balance between digitization and providing human interaction?"
What today's customer wants
The Northridge Group's survey of more than 1,000 United States consumers reveals what matters most to customers is speed and efficiency, followed by personalized and caring human support, and rounded off by knowledgeable service teams.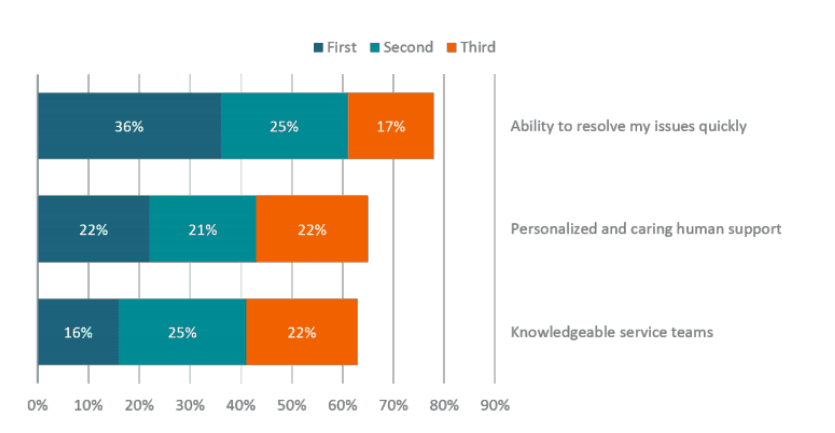 1. Speed and efficiency
The ability to resolve issues quickly and effortlessly is the bottom line for all customer interaction. No customer wants to call a number, be placed on hold indefinitely, referred to multiple departments, or wade through a ton of paperwork to get their issues resolved.
A Coleman Parkes survey reveals that 91 percent of respondents say they would use a single, online knowledge base if it were available and tailored to their needs. Customers prefer to find the solution online rather than be put on hold to speak with a customer service agent.
And nothing frustrates a customer more than when companies transfer them to multiple departments before the issue can be resolved. If they have a concern or an issue, they want it addressed and resolved quickly, and they want to move on. They neither care, nor understand what the inner workings of your organization might be.
Most importantly, they want to utilize technology to reduce the amount of time it takes to get an issue resolved. They prefer to resolve the issue through a self-service portal that's accessible anywhere, anytime. Nothing drives customer satisfaction more than simplicity. A study from the Customer Contact Council established that the best way to achieve customer loyalty is by making their issues easier to solve.
2. Personalized and caring human support
This might feel like a contradiction of the earlier desire for efficiency and speed driven by online resolutions and limited contact with customer service representatives. Yet, if you examine closely, it makes perfect sense.
The Northridge group study states that customers prefer to leverage self-service channels to address their needs and only contact a business directly when those solutions fail them. But nearly 57% of customers have trouble locating information on company websites. This is leading to reluctant reliance on human interaction.
So, by the time a customer is speaking to a human service representative, they're facing either a complex issue, require advice, or need help with connecting the various departments within the organization. Yet, 36% of the respondents to the Northridge study reported that they rarely speak to a representative who seems to know about their account, which leads to frustration.
It seems reasonable that customers expect to speak to a customer service representative who is familiar with the organization, is the issue they're attempting to resolve, and is a specialist. At this point, if they have contact with a customer service representative who is not friendly or polite, asks them to repeat their information several times, or isn't knowledgeable, it leads to frustration for the customer.
3. Knowledgeable service teams
Since customers now can do their own research and figure things out by themselves, they expect the service representatives to know even more about the products and services than they do; and for the representatives to be able to connect the dots within their company on behalf of the customer. They need service representatives who are not merely reading a script or operating off a template but can relate to the issue and resolve efficiently and effectively.
The approach to solving customer service
Solution: Faster issue resolution
Speed and availability are indispensable in driving customer loyalty and satisfaction while facilitating efficient customer service management. So what can organizations do to address the most pressing customer service needs?
Online support through omni channel customer self-service
Let your customers choose the way they want to contact you. Provide them with self-service portals and support online communication through channels such as web, email, chat, telephone and social media. It's crucial that all channels offer the same seamless service.
Connect customer service to other departments within the organization
Connecting departments enables customer service to deal with issues from multiple customers simultaneously, instead of resolving issues individually when they come in. Make customer service integrated to find, fix and prevent issues faster.
Auto-creation of cases and routing for diagnosis and resolution
Automate case creation from emails, calls and other channels for queries or requests. Further, reduce the time to resolve an issue by automating case assignment based on criteria like vicinity, availability and skill set to the technicians or field services.
Personalized portal experience
Build a single portal that houses all the self-service solutions and content across the organization for a smooth self-service experience. Not just in terms of look and feel but also in terms of access.
Service Catalog for recurring requests
Automate tasks for common customer issues through an intuitive interface self-service catalog.
Information on demand with Communities and Knowledge base
Build an engagement platform for users where they can ask their questions, collaborate with other users and get quick responses from experts. Convert unanswered questions to cases and harvest formal knowledge out of solved cases.
Intelligent automation and visual workflow
Perform requests such as address changes, warranty registrations, and password resets using visual workflow and automation to orchestrate front and back end processes. Moreover, machine learning can help categorize, prioritize, and assign cases.
Solution: Personalized and Caring Human Support
Using IoT to monitor health of customer's products and services
Take advantage of the Internet of Things (IoT) to pinpoint and resolve issues before customers call. Further, these connected devices give you insight into what your customers want and how they are interacting with the services provided.
Visibility into status with Visual Task Board
Transform the navigation of lists and forms into an interactive graphical experience through Visual Task Boards. Get real time visibility into the status of created tasks through a user intuitive interface. Proactively communicate the progress of the request to your customer as well.
Integrated Field Service, Project Portfolio Management, and Asset Management
Map issues raised by customers with technician skills and available inventory. Integrate with PPM to replace reactive work with planned maintenance. Swiftly resolve customer issues and increase customer satisfaction.
Accountability with task assignment to other departments
Drive accountability in your organization as you enable customer service to assign tasks to other departments with ease.
Contract and entitlement management
Digitize service contracts to articulate the type of support that a customer receives. Manage multiple service entitlements and SLAs with ease.
Preemptive notifications to customers with Targeted Communication
Identify trends, send preemptive customer communications, and align contracts with customer product or service performance. Proactive communication to targeted customers drives personalized support.
Solution: Knowledgeable Support Teams
Establish a rich knowledge base
Help your customer service team understand organizational workflow and how to deal with different customer issues through an elaborate knowledge base.
Empower your support team with visibility
Give the customer service agent visibility into past interactions with customers and into other departments working to identify or resolve issues.
Ready to get started?
To ensure effective customer service management, you must understand the nuances that are unique to your organization. It is imperative to understand your key benefit drivers and objectives, be receptive to the specialized knowledge your SMEs carry, and balance all that with technical platform skills and experience.
Customer concerns over their data privacy must be addressed with clear, consistent policies and visible benefits to the customer to build a trust based relationship.
Hear the story of American Greetings and how they implemented ServiceNow with INRY to:
Insource their Customer Service
Improve customer service by resolving issues faster
Proactively connect the enterprise to solve problems faster
Act as a single source for customer data
Report on common problems and root causes