The 5-part ServiceNow Rome upgrades blogs series ends with this article covering features advancements, insights, and UI modifications to the Vendor Manager Workspace. With the ability to preview, test, and upgrade early (with "the new ServiceNow's n-1 support policy"), the program allows us to plan and prepare for a seamless upgrade transition to the latest Now Platform for our customers. 
Some of the compelling benefits we've seen from Rome previews include the ability to:
Vendor Manager Workspace in Rome
This article highlights the Vendor Manager Workspace features provided as part of the ServiceNow Rome release and assumes the reader has a basic understanding of ServiceNow's Vendor Risk Management (VRM) and Performance Analytics solution.
The ServiceNow Vendor Manager Workspace application adds more to monitoring the performance of a company's vendors and managing all vendor-related information at a single location. You can do this by creating metric models of vendors to evaluate vendor health and their capacities.
Quebec's easy reach features in Vendor Manager Workspace
Vendor Manager Workspace in the existing Quebec release has Vendor Score Metrics Model, Success Indicators, Workspace Integration, and Satisfaction Assessments. All these KPIs are available to users in a single location with the help of a comprehensive vendor information layout. You can use integrated application data from various applications to measure vendor performance. Data collection frequency for Performance Analytics Indicators is updated monthly.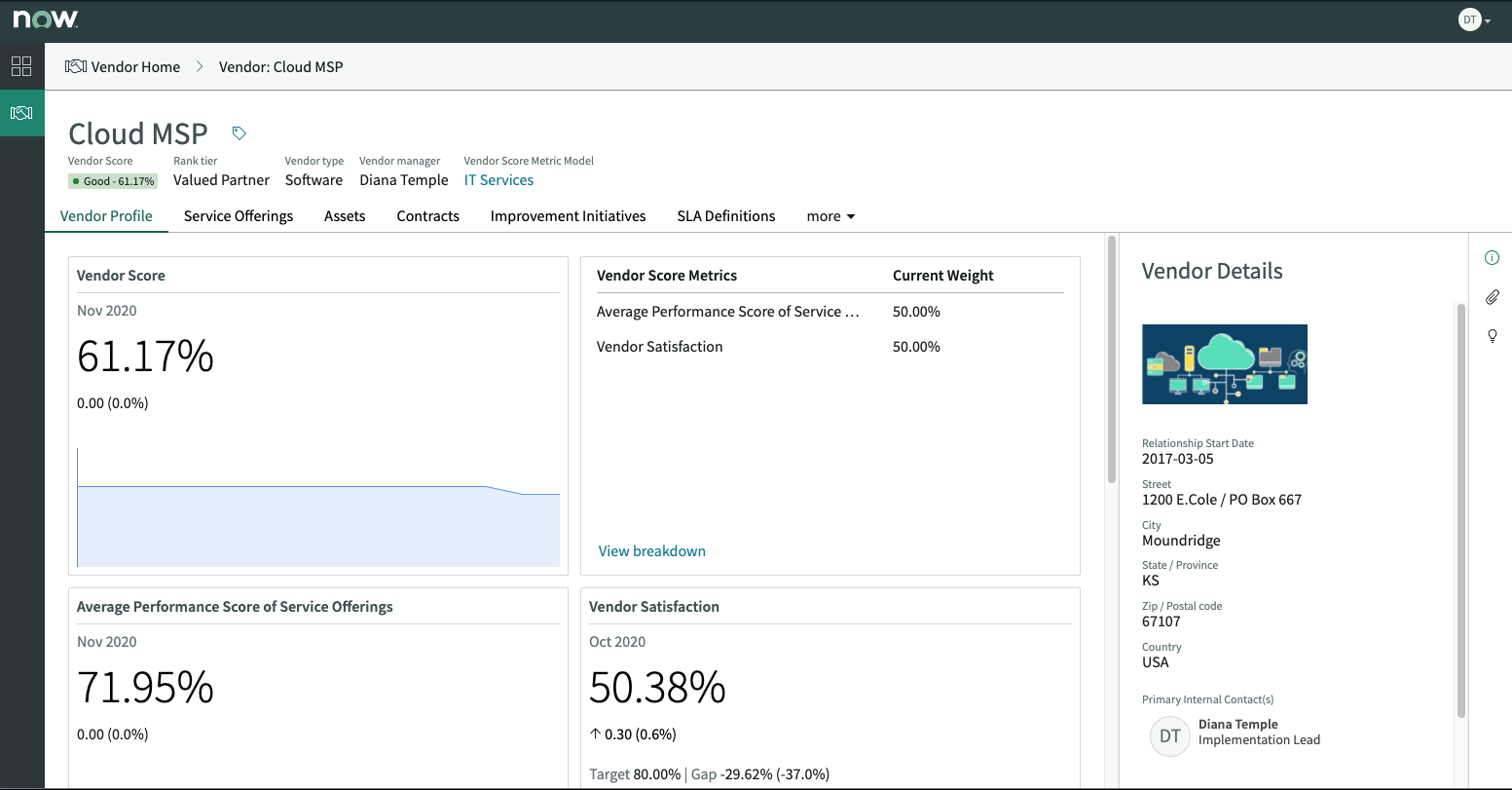 Image source: Vendor Manager Workspace data in a unified location
However, in the Rome release, the frequency of data collection of the corresponding indicators is updated daily. Data visualization has improved - from multiple tabs to a single landing page of KPIs, thereby providing easy access and understanding.
Significant Enhancements in Rome
Service Credits: In case of a breach of service agreement during a contract period, a vendor manager can track and manage the organization's vendors' compensation. It is easier to monitor service agreement breaches based on an outage, incident, and service availability. Vendor Managers can also analyze the cumulative effect of multiple breaches by the same vendor at a single location. An added feature of tallying refunds from vendors due to performance failures is also available, which is necessary.

Vendor Manager Workspace landing page: A landing page featuring the advanced Vendor Manager Workspace provides a single interface to monitor vendor metrics and characteristics that contribute to the vendors' success. You can measure the performance of all vendors in an organization based on the vendor score in a quick overview.

Vendor success indicator initiative improvements:

If you need to improve services, processes, or tasks, you can create an improvement initiative related to vendors. Additionally, it provides flexibility to track and manage these initiatives. At a glance, a single score report will tell you the number of active improvement initiatives supported or executed.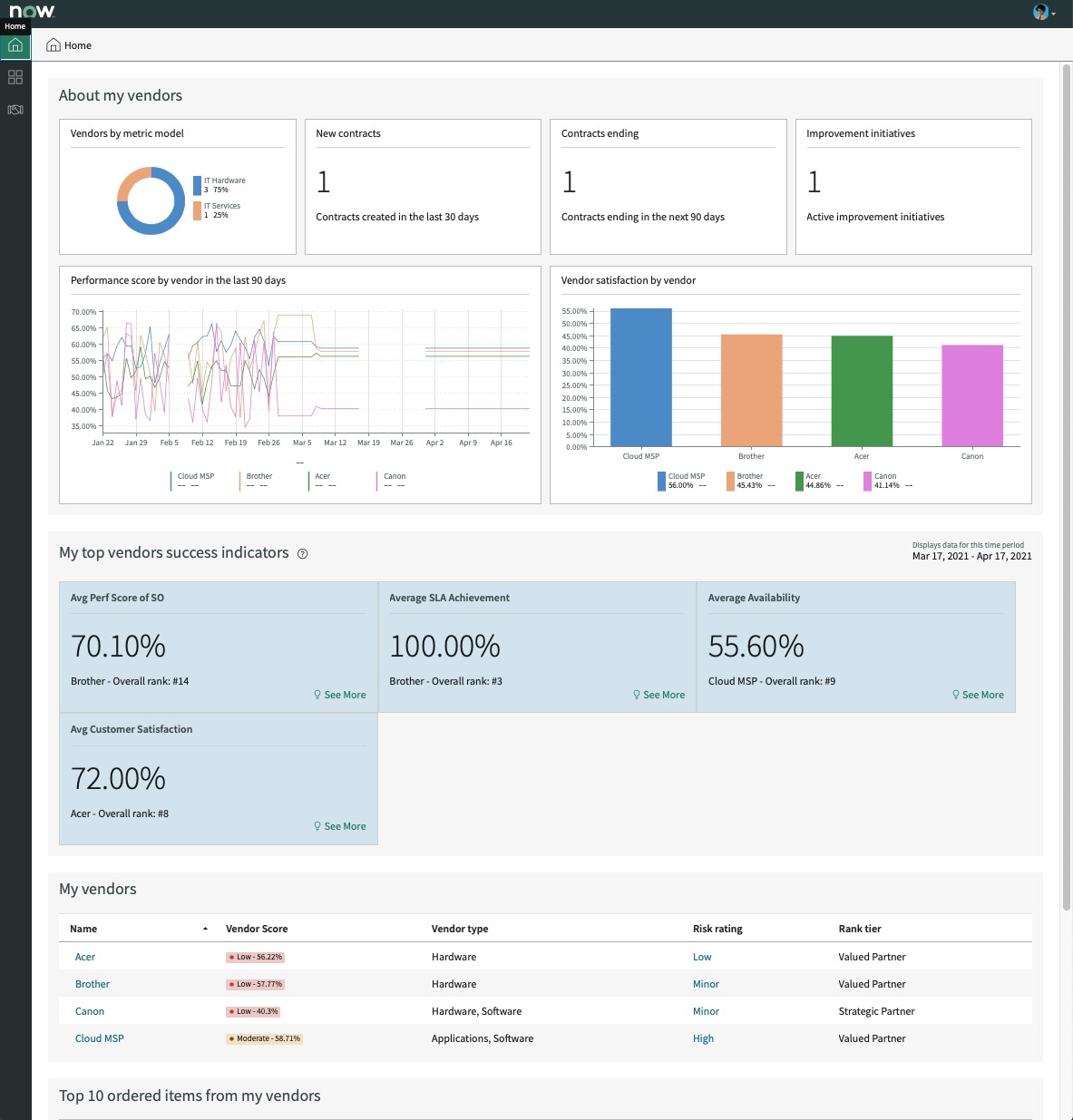 Image source:- Vendor Manager Workspace landing page
What Rome offers at its fingertips

Comparing vendor performance is an advantageous option provided in the Vendor Assessment Administration module and Vendor Success Indicators. Workspace Managers can assess vendor performance through relevant insights, understand the factors that drive vendor's success, and leverage the configurable vendor metric KPIs.
About INRY
INRY is an Elite ServiceNow partner with a long and successful history of delivering digital workflow automation. We run our business on the same platform, which gives us the ability to experience first-hand the impact and value we provide for our clients. As a strategic partner and customer, we get access to the latest ServiceNow innovations through the ServiceNow Early Release Program well in advance than most partners.
About the Author: Radhika Sasikumar
Radhika holds a Master's degree in Bio-informatics and has a professional background in Research with experience in computational simulations. As a Certified System Administrator in ServiceNow, she is a part of the Delivery team at INRY. She specializes in CMDB, CSDM, and Service Portfolio Management domains.
During her leisure time, she reads and listens to various genres of music. Being in tune with nature helps her imagination fly and makes her feel delighted.