Time for the fourth blog of our ongoing 5-part ServiceNow Rome upgrades series. This series of blogs covers features advancements, insights, UI modifications, and security upgrades. With the ability to preview, test, and upgrade early (with "the new ServiceNow's n-1 support policy"), the program allows us to plan and prepare for a seamless upgrade transition to the latest Now Platform for our customers. This article highlights the new ServiceNow Agent Workspace features for agents, provided as part of the ServiceNow Rome release, and assumes the reader has a basic understanding of the ServiceNow Agent Workspace functionality.
Some of the compelling benefits we've seen from Rome previews include the ability to:
ServiceNow's Agent Workspace is an all-in-one application designed to increase the efficiency of agents. Case navigation and management become a lot easier by enabling agents to handle multiple records of several types in one single tab/window of their web browser. The Workspace application aims to give quick access to agents, answer customer questions, and resolve issues faster.
ServiceNow provides Workspaces for the following solutions –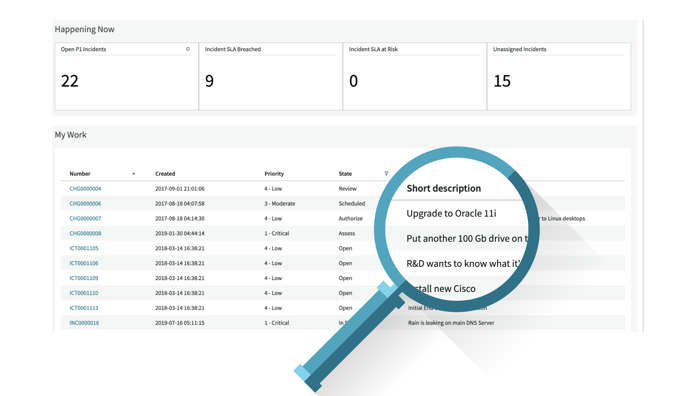 Image: An ITSM Workspace standard landing page
What's changing after the Quebec upgrade?
UI actions (buttons in the Workspace) – Buttons designed to automate various actions will be available on the incident, problem, change, and other task management tables straight out of the box. Related lists will also have list buttons for adding or removing a related record.
Ability to create customized lists and save them in the HR Workspace – In Paris and prior releases, you cannot save personalized filter lists in the HR Workspace under 'My Lists' for easy access. You can do so in the Rome or Quebec release.
Document viewer update – PDF files are supported and can be previewed right inside the Workspace with the built-in document viewer. Agents view or access PDF documents in their day-to-day activities.
Addition of the UI Builder – With Quebec, ServiceNow launched UI Builder, and its capabilities are endless. You can build and share informative dashboards from within the ServiceNow Agent Workspace. You can visualize data in more ways than before.
Enhancements
Faster and better transitions within the Workspace – Navigating and managing task records are now smoother compared to Paris and previous releases. ServiceNow prioritized the user experience with each enhancement to the Agent Workspace in the Rome and Quebec versions.
What's changing after the ROME upgrade?
Everything the Quebec release has to offer, and more.
The ability to edit single or multiple records in a list – As an Agent Workspace user, you know it is tedious to open each record to update and save changes. In the ROME upgrade, you can edit fields of multiple records in a list.
Help text or field hints for fields in records will be available – Agent Workspace records do not display help text or field hints up until the previous release. With the Rome upgrade, help texts are available and visible by hovering the cursor over the field.
The support for Form annotations – Having annotations (informative text visible on the form) makes it easier to fill a form. In Rome, this will be yet another feature that will become available in the Agent Workspace.
Emojis will be available on Agent Chat – It's an excellent option to have, to help agents convey the tone of their message accurately.
Image upload onto a single field – In Rome, you can upload images in one field instead of adding attachments to increase accessibility.
Enhancements
The ability to re-design the UI of the Workspace landing page – There are limitations to modifying the Workspace to suit a client's needs. With the updates in Rome, most of these limitations will go away – you can customize the Workspace UI according to the client's requirements. Fancy, right?
More freedom with UI Actions (buttons available in the Workspace) – In Rome, the capabilities of UI buttons in Agent Workspace get a makeover. Moreover, you can configure pop-ups based on the need and create a more user-friendly environment.
Stay updated on new and exciting features in Vendor Manager Workspace in the upcoming article available next week.
Sources:
Custom UI actions in workspace
Custom My List for HRSD Agent Workspace
Quebec Workspace release notes
About INRY
INRY is an Elite ServiceNow partner with a long and successful history of delivering digital workflow automation. We run our business on the same platform, which gives us the ability to experience first-hand the impact and value we provide for our clients. As a strategic partner and customer, we get access to the latest ServiceNow innovations through the ServiceNow Early Release Program well in advance than most partners.
About the Author: Saura Sambit
Saura is a ServiceNow Consultant at INRY with experience in HRSD, ITSM, App Engine, and other less commonly used applications. He worked on Agent Workspace during an HRSD implementation and fell in love with the user experience. ServiceNow is constantly improving the Workspace experience for Agents at their fingertips without leaving the current browser tab. Saura loves to learn more about Linux servers, watch international movies, and focus on fitness in his free time. He also dabbles with writing blogs.